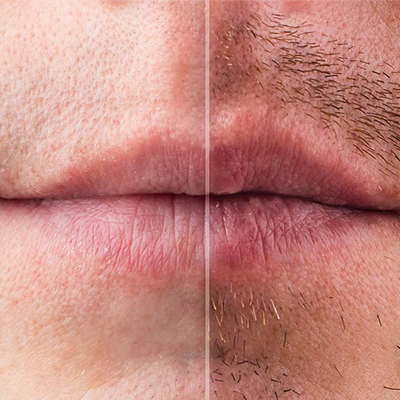 Facial Hair Transplants or Beard Restoration has increased around the world over the past years. Many men undergoes FUE Beard Transplants method to increase density and fullness in their beards.
Beard transplants, like goatee, moustache, sideburn or eyebrow transplants are specialist procedures, with outcomes highly dependent on the surgeon's skills. We currently have experienced Hair Transplant surgeons who specialize in facial hair, beard, moustache, goatee, sideburn and eyebrow using the FUE hair transplants technique.
Facial hair growth or lack thereof and patchiness may be a result of either scarring or genetics. A recent study found that as many as 45% of men have been unhappy with the patchiness throughout their beard and sideburns. For many cultures, facial hair is a sign of prestige and masculinity.
What is beard and moustache transplant?
Beard and moustache transplant is a procedure that restores hair to areas where spotty or patchy loss of hair occurs. Apart from transplanting hair on beard and moustache areas, it can also be performed on cheeks and sideburns. The reasons why men have thin beard and moustache, spotty and patchy facial hair loss can be hereditary or because of scars, burns and trichotillomania.  While for some men only full beard is desired, for the others only a small area on the face can be covered. For some men, facial hair loss can be a trauma and it may lower their self-confidence. Fortunately, beard and moustache transplant brings a permanent solution to facial hair loss.
How is Facial Hair Transplants performed?
The FUE technique is used for beard and moustache transplantation, this means that the hair is extracted from the back of the head and transplanted into the bald areas of the beard and moustache. As the back of the head has the most abundant amount of hair, beard and moustache transplantation gives natural results. The beard and moustache transplant is performed under local anesthesia and lasts between 2 and 5 hours. If the bald area on the face is big, then it may take much more time. For example, 1,500 grafts can be enough to create a goatee while about 3,000 grafts will be extracted to achieve a full beard or more density.
Great benefits from Inmedita
.
Inmedita is a collaboration between expert hospitals and doctors and tourism professionals.
Need a personalized solution
?
The goal of Inmedita is to have satisfied and happy medical tourists. This is achieved by removing confusion, anxiety and surprise from the process of planning & making a health care trip. We do our best to meet our client's expectations of finding the best healthcare solution for you.
24×7 Available Representatives

Affordable Prices

Planning Your Trip
Quality & Professionalism

VIP Transfer Services

Free Consultation

No Waiting Lists