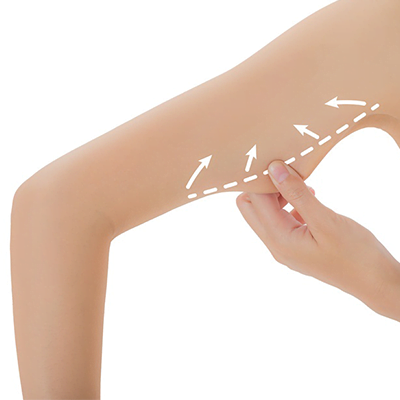 The arm lift surgery procedure, also known as brachioplasty, is a treatment for excess or sagging skin of the underarms and bicep area. This area of the arm is very susceptible to sagging or drooping due to ageing or weight loss. It is very common over time for the skin to lose its elasticity and loosen. As the skin loosens it can droop and cause an individual to feel insecure or less confidence about their appearance.
Arm lift surgery, also medically referred to as brachioplasty, is a procedure commonly performed to tighten and lift the loose skin of the upper arms be it from aging or from build-up of fat deposits on the upper arms.
Patients undergoing an arm lift surgery are expected to be able to resume daily activities and routine within a week of the surgery. Swelling from the surgery will begin to fade out and completely diminish within a week of the surgery. Patients will notice immediate change in appearance, however after passing the 3-4 weeks' timeline, patients will experience further improvements regarding the arm's overall appearance.
Great benefits from Inmedita
.
Inmedita is a collaboration between expert hospitals and doctors and tourism professionals.
Need a personalized solution
?
The goal of Inmedita is to have satisfied and happy medical tourists. This is achieved by removing confusion, anxiety and surprise from the process of planning & making a health care trip. We do our best to meet our client's expectations of finding the best healthcare solution for you.
24×7 Available Representatives

Affordable Prices

Planning Your Trip
Quality & Professionalism

VIP Transfer Services

Free Consultation

No Waiting Lists