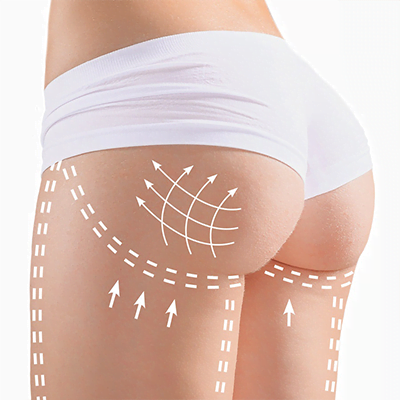 Sometimes people may be dissatisfied with the appearance of their buttocks, they can find it small, low or inadequate in relation to their silhouette.
Many women are motivated to give volume to their buttocks by opting for a natural aesthetic method without scars, this is possible with a cosmetic surgery called Lipolifting Buttocks. This consists of a transfer of excess fat cells on one of the regions of the patient's body itself, to the buttocks.
Generally, this procedure is adapted for women with both gluteal volume defect and areas of fat accumulation in other regions of the body (belly, hips, thigh, saddlebags, etc.).
During this procedure, our plastic surgeon will remove fat from the donor areas, such as the belly, thighs or the hips. Then, the amount of fat will be purified by centrifugation, decantation or simple washing. The aim of these operations is to separate the fat cells of good quality impurities (blood, serum, cellular debris).
The third stage of the surgery will be the reinjection into the buttocks, using small incisions. This reinjection is done delicately, with a quantity adapted to each case in the appropriate areas that can give the best gluteal morphology. The operation ends with the installation of a restraint garment.
A larger buttock shape has now become a very important of our society. This has led to considerably improvement and developments in recent years. It requires no foreign substance in the body, therefore no long-term complications, no need for prosthetic changes and no rejection problems. Its only limit of use depends on the amount of fat available in the patient.
Great benefits from Inmedita
.
Inmedita is a collaboration between expert hospitals and doctors and tourism professionals.
Need a personalized solution
?
The goal of Inmedita is to have satisfied and happy medical tourists. This is achieved by removing confusion, anxiety and surprise from the process of planning & making a health care trip. We do our best to meet our client's expectations of finding the best healthcare solution for you.
24×7 Available Representatives

Affordable Prices

Planning Your Trip
Quality & Professionalism

VIP Transfer Services

Free Consultation

No Waiting Lists