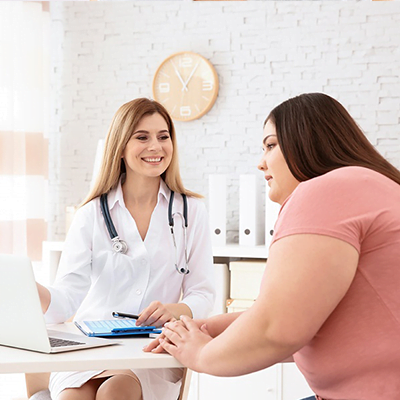 Gastric bypass is a type of weight-loss surgery that involves creating a small pouch from the stomach and connecting the newly created pouch directly to the small intestine. After gastric bypass, swallowed food will go into the small pouch in the stomach and then directly into the small intestine, thereby bypassing most of your stomach and the first section of your small intestine.
Why it's done
Gastric bypass is done to help you lose excess weight and reduce your risk of potentially life-threatening weight-related health problems, including:
Gastroesophageal reflux disease
Heart disease
High blood pressure
High cholesterol
Obstructive sleep apnea
Type 2 diabetes
Stroke
Infertility
Who it's for
It is important to remember that gastric bypass in only an option at our clinic if:
Your body mass index (BMI) is 40 or higher.
Your BMI is 35 to 39.9 (obesity), and you have a serious weight-related health problem, such as type 2 diabetes, high blood pressure or severe sleep apnea.
Risks
As with any major surgery, gastric bypass and other weight-loss surgeries pose potential health risks, both in the short term and long term.
Risks associated with the gastric bypass are similar to any abdominal surgery and can include:
Excessive bleeding
Infection
Adverse reactions to anesthesia
Blood clots
Lung or breathing problems
Leaks in your gastrointestinal system
Longer term risks and complications of gastric bypass can include:
Bowel obstruction
Dumping syndrome, causing diarrhea, nausea or vomiting
Gallstones
Hernias
Low blood sugar (hypoglycemia)
Malnutrition
Stomach perforation
Ulcers
Vomiting
How to prepare
If you qualify for gastric bypass, our clinic team will give you instructions on how to prepare for surgery, this includes various lab tests and exams before surgery.
Other precautions
It is important to know that following surgery you will need to make healthy lifestyle changes including a physical activity program and a diet provided to you by our on-staff dietician.  This diet will help regulate your calorie intake while insuring you are getting the adequate amount of vitamins and minerals.
After the procedure
Following gastric bypass surgery, you will be given a liquid diet, no solid foods are allowed at this time.  This will allow your stomach and intestine to heal. You will then proceed with a special diet provided to you by our in-staff dietican which will help you slowly graduate from liquids to pureed foods.
We will also recommend you take vitamin and mineral supplements after surgery, including and not specific to a multivitamin with iron, calcium and vitamin B-12.  These vitamins will be determined based on lab work done post-surgery.
You may experience changes as your body reacts to the rapid weight loss in the first three to six months after gastric bypass, including:
Body aches
Feeling tired, as if you have the flu
Feeling cold
Dry skin
Hair thinning and hair loss
Mood changes
Results
Gastric bypass can provide long-term weight loss. The amount of weight you lose depends on how strictly you follow your diet and the changes your make to your lifestyle.   It has been found to be possible to lose 60 percent, or even more, of your excess weight within two years.
In addition to weight loss, gastric bypass may improve or even in some cases resolve conditions often related to being overweight, including:
Gastroesophageal reflux disease
Heart disease
High blood pressure
High cholesterol
Obstructive sleep apnea
Type 2 diabetes
Stroke
Infertility
Great benefits from Inmedita
.
Inmedita is a collaboration between expert hospitals and doctors and tourism professionals.
Need a personalized solution
?
The goal of Inmedita is to have satisfied and happy medical tourists. This is achieved by removing confusion, anxiety and surprise from the process of planning & making a health care trip. We do our best to meet our client's expectations of finding the best healthcare solution for you.
24×7 Available Representatives

Affordable Prices

Planning Your Trip
Quality & Professionalism

VIP Transfer Services

Free Consultation

No Waiting Lists