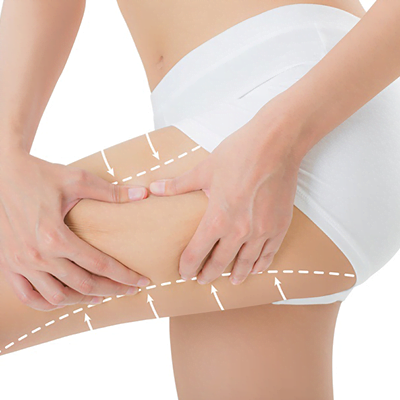 Thigh Lift surgery is an excellent way to achieve the thighs you desire, creating a firmer and more attractive upper leg shape.
Some of the most common causes of sagging skin in the thighs are losing a large amount of weight, as well as ageing. It's also possible that the shape of your natural thighs change due to fatty deposits.
As we age, the skin of our thighs loses elasticity and begin to sag. This is especially true for those who have experienced repeated periods of weight gain and weight loss, where the skin has been stretched multiple times. Stretched skin is unlikely to shrink back naturally and typically cannot be tightened with diet and exercise, surgical intervention may be the only way to deliver your desired results. The sought after 'Thigh-Gap' is where the inner thighs are slim and contoured, and the dreaded 'Saddlebags' is a term for when your outer thigh has an excess of skin and fat causing you to look much heavier than you actually are.
Thigh lift surgery is a method of body contouring, reducing the amount of excess skin and often fat on the thighs. The procedure can be limited to a single localized area of the thigh or can be extended to include the whole area. It is performed under general anesthetic and leaves scars hidden as far as possible under the buttock fold or groin.
Great benefits from Inmedita
.
Inmedita is a collaboration between expert hospitals and doctors and tourism professionals.
Need a personalized solution
?
The goal of Inmedita is to have satisfied and happy medical tourists. This is achieved by removing confusion, anxiety and surprise from the process of planning & making a health care trip. We do our best to meet our client's expectations of finding the best healthcare solution for you.
24×7 Available Representatives

Affordable Prices

Planning Your Trip
Quality & Professionalism

VIP Transfer Services

Free Consultation

No Waiting Lists