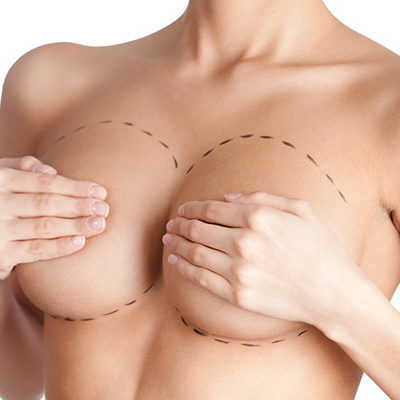 Indications
Breast augmentation is a procedure that offers excellent results, providing that the correct technique is chosen for the patient. Breast implants represent a reliable and effective technique for breast augmentation. The new generation of implants are characterized by extreme reliability and a range of shapes so vast that tailor-made procedures can be offered.
Execution
The choice of implants takes into account two parameters: the existing shape of the breast and the patient's wishes. Anatomical implants (pear-shaped) can be used when breasts are non-existent, or almost, and volume and shape are required. Otherwise, and more often, round implants are used that come in several different kinds.
The scar is often located in the axillary fold. With a length of 4 cm, it almost disappears over time. The areola scar is envisaged only if it is necessary to reposition the areola due to ptosis.
Results
This "tailor-made" breast augmentation allows for a result that conforms to each patient's wishes as much as possible. Results are very natural and long-lasting.
Great benefits from Inmedita
.
Inmedita is a collaboration between expert hospitals and doctors and tourism professionals.
Need a personalized solution
?
The goal of Inmedita is to have satisfied and happy medical tourists. This is achieved by removing confusion, anxiety and surprise from the process of planning & making a health care trip. We do our best to meet our client's expectations of finding the best healthcare solution for you.
24×7 Available Representatives

Affordable Prices

Planning Your Trip
Quality & Professionalism

VIP Transfer Services

Free Consultation

No Waiting Lists