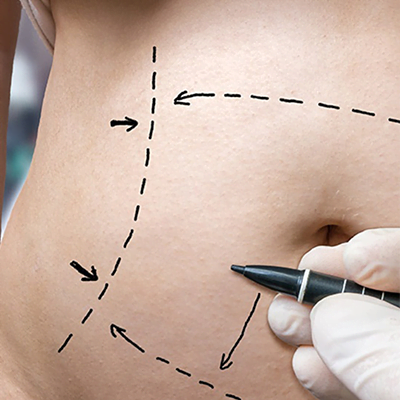 The tummy tuck procedure can dramatically change the appearance of the "sagging abdomen" and create a more aesthetical silhouette in the waist area for both men and women. Results of an abdominoplasty are long-term when followed by regular exercise and a well-balanced diet. An abdominoplasty is performed under general anesthesia.
If the fat distribution is confined to the area around the navel, a less demanding procedure will be sufficient, called a partial abdominoplasty. In some cases, a combination of partial/complete abdominoplasty and liposuction may be more beneficial, which can remove fat from the hips, thereby improving the body contours.
Our partner hospitals will recommend a procedure that is right for you and whose results will be as close to the desired body shape as possible.
The best candidates for abdominoplasty are women or men who are in relatively good shape but are bothered by a large fat deposit or loose abdominal skin that won't respond to diet or exercise. A tummy tuck is procedure we suggest for body reshaping not for weight loss. The procedure can also resolve stretched muscles and skin of women post pregnancy.
Who is unsuitable for abdominoplasty?
If you intend to lose a lot of weight, you should postpone this surgery.
Women planning future pregnancies should postpone the surgery; during surgery vertical muscles are tightened and can separate again during pregnancy
If you have scarring from previous abdominal surgery, your scars could be unusually prominent after an abdominoplasty
Great benefits from Inmedita
.
Inmedita is a collaboration between expert hospitals and doctors and tourism professionals.
Need a personalized solution
?
The goal of Inmedita is to have satisfied and happy medical tourists. This is achieved by removing confusion, anxiety and surprise from the process of planning & making a health care trip. We do our best to meet our client's expectations of finding the best healthcare solution for you.
24×7 Available Representatives

Affordable Prices

Planning Your Trip
Quality & Professionalism

VIP Transfer Services

Free Consultation

No Waiting Lists