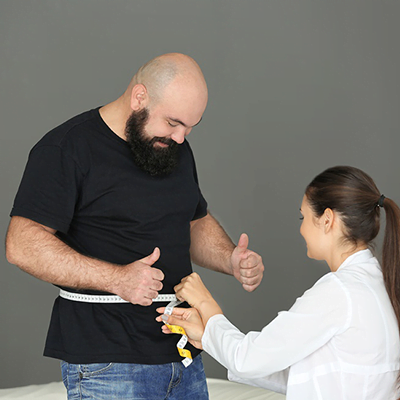 Sleeve gastrectomy, also known as vertical sleeve gastrectomy, is another surgical weight-loss procedure performed at our clinic.  This procedure is typically performed laparoscopically, which involves inserting small instruments through multiple small incisions in the upper abdomen. During sleeve gastrectomy, about 80 percent of the stomach is removed, leaving a tube-shaped stomach about the size and shape of a banana.  Limiting the size of your stomach restricts the amount of food you are able to consume. In addition, the procedure prompts hormonal changes that assist with weight loss. The same hormonal changes also help relieve conditions associated with being overweight, such as high blood pressure or heart disease.
Why it's done
Sleeve gastrectomy is done to help you lose excess weight and reduce your risk of potentially life-threatening weight-related health problems, including:
Gastroesophageal reflux disease
Heart disease
High blood pressure
High cholesterol
Obstructive sleep apnea
Type 2 diabetes
Stroke
Infertility
Who it's for
Sleeve gastrectomy is typically done only after you've tried to lose weight by improving your diet and exercise habits.
In general, sleeve gastrectomy surgery could be an option for you if:
Your body mass index (BMI) is 40 or higher (extreme obesity).
Your BMI is 35 to 39.9 (obesity), and you have a serious weight-related health problem, such as type 2 diabetes, high blood pressure or severe sleep apnea. In some cases, you may qualify for certain types of weight-loss surgery if your BMI is 30 to 34 and you have serious weight-related health problems.
Risks
As with any major surgery, sleeve gastrectomy poses potential health risks, both in the short term and long term.
Risks associated with the sleeve gastrectomy can include:
Excessive bleeding
Infection
Adverse reactions to anesthesia
Blood clots
Lung or breathing problems
Leaks from the cut edge of the stomach
Longer term risks and complications of sleeve gastrectomy surgery can include:
Gastrointestinal obstruction
Hernias
Gastroesophageal reflux
Low blood sugar (hypoglycemia)
Malnutrition
Vomiting
How you prepare
Once you qualify for sleeve gastrectomy, our clinic team will provide you with instructions on how to prepare for surgery.  This includes various lab tests and exams.
 What can you expect?
Sleeve gastrectomy is done in the hospital. Depending on your recovery, your hospital stay may last one to two or three nights.
After the procedure
Following sleeve gastrectomy, your initial diet consists of only liquids, then gradually pureed foods will be introduced into your diet.  Our patients will work with our in-staff dietician to establish a diet that fits your lifestyle and nutrition needs.
You may be required to take a multivitamin twice a day, a calcium supplement once a day, and a vitamin B-12 injection once a month for life. However, this depends completely on your post-surgery lab work.
Results
Sleeve gastrectomy can provide long-term weight loss. The amount of weight you lose depends on your change in lifestyle habits. It is possible to lose approximately 60 percent, or even more, of your excess weight within two years.
in addition to weight loss, sleeve gastrectomy may improve or resolve conditions related to being overweight, including:
Heart disease
High blood pressure
High cholesterol
Obstructive sleep apnea
Type 2 diabetes
Stroke
Infertility
Great benefits from Inmedita
.
Inmedita is a collaboration between expert hospitals and doctors and tourism professionals.
Need a personalized solution
?
The goal of Inmedita is to have satisfied and happy medical tourists. This is achieved by removing confusion, anxiety and surprise from the process of planning & making a health care trip. We do our best to meet our client's expectations of finding the best healthcare solution for you.
24×7 Available Representatives

Affordable Prices

Planning Your Trip
Quality & Professionalism

VIP Transfer Services

Free Consultation

No Waiting Lists